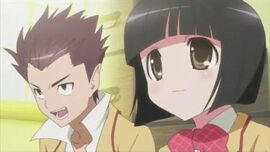 Kanokon'
s story revolves around
Kouta Oyamada
, a young first-year high school student who moves from the country to the city and thus transfers to Kunpō High School. On his first day at his new school, he meets a beautiful second-year female student named
Chizuru Minamoto
. Chizuru asks him to meet her alone in the music room. When he arrives, she tells him that she is in love with him and accidentally reveals to him that she is in fact a
fox spirit
. Chizuru constantly and openly flirts with Kouta, even in front of others, which embarrasses him greatly. Soon after the story begins, a wolf spirit named
Nozumu Ezomori
transfers into Kouta's school and class. From day one, she is all over Kouta which serves to embarrass him more and cause Chizuru to become annoyed at her new competition for Kouta's affection.
Ad blocker interference detected!
Wikia is a free-to-use site that makes money from advertising. We have a modified experience for viewers using ad blockers

Wikia is not accessible if you've made further modifications. Remove the custom ad blocker rule(s) and the page will load as expected.